Description
BANNER FLAGS SETS
Banner flags are one of the most popular forms of outdoor advertising due to their high visibility and easy assembly. Designed to withstand the harsh sun rays, our teardrop and feather flags are printed using dye-sublimation, made of high quality 110gsm knitted polyester and are double stitched for durability.
All banner flag sets come standard with a custom print, carry bag, high quality fibreglass pole and star picket ground spike that reduces the ability for the flag to move or lean. We carefully chose these features to set us apart from our competitors. We also include a free carry bag for easy transportation. Available in 4 different sizes, we're sure to have a flag to suit your needs.
Standard Turn Around: 8 working days from 12pm cut off
*Use the one pole for all three styles of flag (rectangular just requires an additional 'L' shaped arm)
Pole sizes: Small = 2.9m, Medium = 3.5m, Large = 4.5m, XL = 5.5m
Feather Banner Flags
Small: 630 x 2000mm (2.5m high assembled)
Medium: 750 x 2550mm (3m high assembled)
Large: 750 x 3560mm (4m high assembled)
XL:750 x 4570mm (5m high assembled)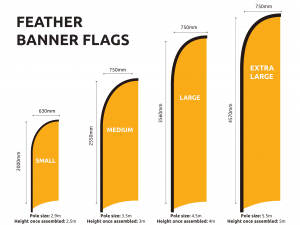 Teardrop Banner Flags
Small: 740 x 1740mm (2.2m high assembled)
Medium: 750 x 2200mm (2.7m high assembled)
Large: 1050 x 3100mm (3.6m high assembled)
XL: 1110 x 4030mm (4.6m high assembled)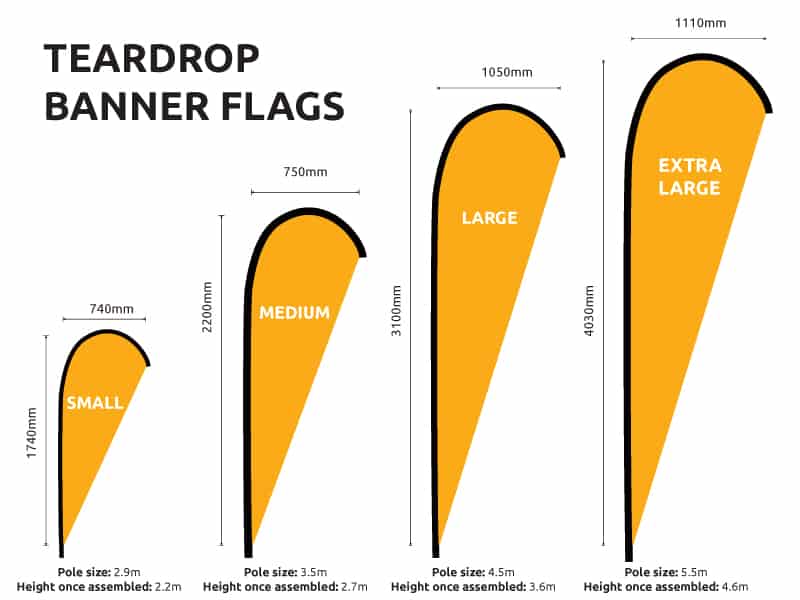 Rectangular Banner Flags
Small:700 x 1060mm (1.52m high assembled)
Medium: 700 x 1660mm (2.15m high assembled)
Large: 700 x 2660mm (3.15m high assembled)
XL: 700 x 3660mm (4.15m high assembled)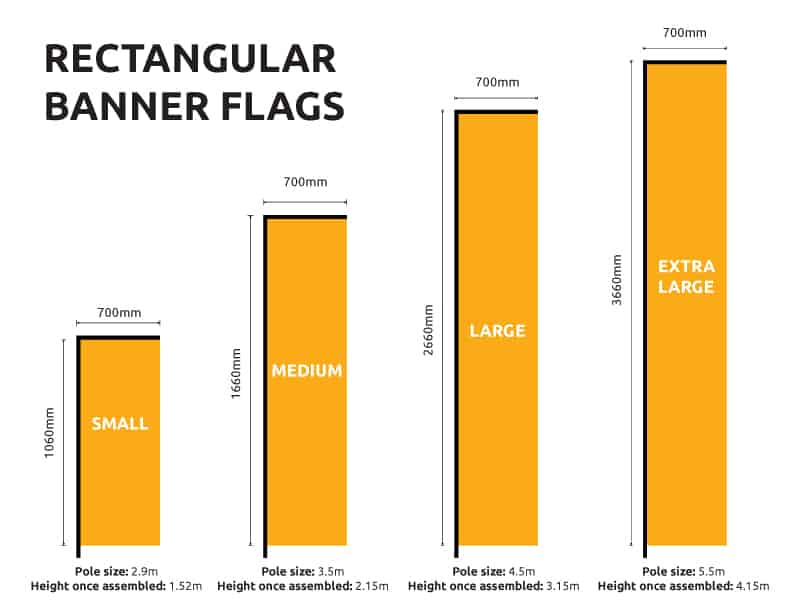 Our Banner Flag Fabric comes with a three-month weather warranty.